Chile Travel Guide
Welcome to What Chile, the guide that covers everything you need to know about Chile, whether it is the rich history preserved or the place to find an excellent restaurant you can find it here! Don't be shy, take a look around and get to know all about Chile! If there is anything you think should be included then be sure to drop us a message on our guestbook!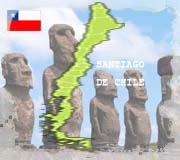 Learn here It began around 12,000BC in Chile...
Culture & the Arts
Chile is overflowing with culture that has been preserved and displayed over the centuries check out this section for all the details! Read more
Trips from Chiole
If you want to explore the outskirts and surrounding areas of Chile then check... Read more
Chile has several locations all with a unique atmosphere to satisfy all. Including Rapa Nui, Santiago and many more!
How to Use this Guide
We want to provide you with all the essential information for a trip to Chile. From the stuff that you need to know before your departure, which you can find in Planning Your Trip, to the best things to do once you're here in Out & About.
As well as the basics we've thrown in a few extras such as a History section and a Culture section to allow you to know a bit more about this charming country.