Antofagasta
Located far north of the coast this city was originally named 'La Chimba' part of the Incan empire, its primary focus was directed upon its transportation of resources making it a valuable port to control of. It is a city of flawless weather and there certainly won't be any complaints with the average temperatures ranging from 18-24 degrees celsius and is especially warm during January and February.
Notable Locations in Antofagasta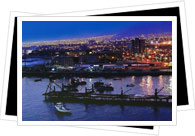 Muelle Salitrero
One of the notable locations you should visit is the Muelle Salitrero, it blends into the coastal style of the city as it is a famous dock that significantly was used by Chilean soldiers as a landing point in 1879, this was one of the events that contributed to the pacific war.
El Tatio
Noted as one of the most interesting locations in Northern Chile, El tatio which translates to grandfather is a geyser (a spring that ejects pressurized water) it provides those unique picture perfect moments that can be treasured all courtesy of mother nature.
Salar de Atacama
This is the largest salt flat in Chile, the stretches of land are best known for their durability for transport and are the place to be whenever you want to check out one of the world record attempts. Which currently stands at over 760 miles per hour! Though due to this location water supply being completely absent it means that the surface itself is rather rough. It is the location of 27 percent of the worlds lithium.
La Portada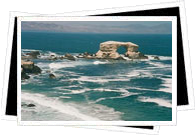 This natural monument just north of the city is a large arched stone structure that was formed over millions of years originating as a sea bed. To accompany it is a beautiful beach though it isn't the right place to get the swimming costume out as the waters can be quite dangerous.
Barrio Historico
This neighborhood has a unique vibe that surrounds it, containing a mixture of typical buildings from the previous century that also includes a quaint and informative museum of the significance of this street.