Santiago de Chile
Santiago is the capital and largest city within Chile which is located in the 'Santiago Basin' which is surrounded on the east side by the Andes with the Chliean Costal Range on the opposite side. Within the city itself it has quite the reputation for modern facilities such as their transportation (Santiago Metro) It isn't always a picture of beauty in an immediate sense because of pollution that has cast over this city yet over recent years this has fell considerably.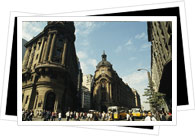 Whichever direction you choose to go you will find some form of entertainment whether it be a shopping spree in one of many fashion squares or keeping the appetite at bay with some extremely satisfying cuisine. If you aren't won over with the idea of retail therapy with what the cosmopoliton centre has to offer then you will be happy to know that the Andes serve a purpose for all the winter sport enthusiasts and where else better to test out the new skiing equiptment? yeah we couldn't think of anything either.
The highlights of Santiago include
Plaza de Armas
: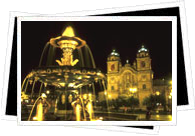 One of the things that can be said for this location is the historic value that it brings to the table, many consider it the focal point of the city it has a wide selection of bits and bobs for you to endulge yourself such as restaurants coffee shops and street vendors. It gives you a picture perfect location to just kick back and watch everything go by. It is also worth mentioning the architecture surrounding you will give you cramp in your picture taking finger!
Cerro Santa Lucia: This park earns its unique reputation which demands you walk a fair bit up it before you can get to see some of the really stunning views on offer. If you want something different from the norm then it even offers a small castle within its boundaries and in 1541 it was these grounds that hosted the ceremony that founded Santiago into the Kingdom of Spain.