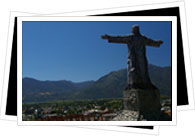 Pucón
This is the place to be if your interests fall under any kind of exploration whilst on holiday, some of the activities include fishing, hiking, rafting and biking to mention but a few.
Another intense activity typically taking place here is the ascension of Vulcan Villarica one of the most active volcanos in Chile. Its presence characterizes the town with its regular bursts of sulpher smoke and black sand surrounding the lake.
The Vulcan Villarica stands at over 5000 feet so it is quite the challenge and if you wish to give it a go then you will be pleased to know you can easily gain entrance for around 1.20€ and from there you will need to arrange for a guide to take you up.
If you wish to travel without the aid of a guide then you will have to show credentials or some documentation to show that you are qualified and have experience in the particular field.