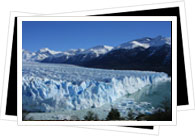 Travel to El Calafate
El Calafate is a small town with a population of just 3,500 that is separated by a lake into two halfs. Its primary concern in modern times is tourism and this is something that they excel in. If you're looking for the activities in El Calafate then you can't go wrong with the first option by going to the glacier Perito Moreno.
At 5 kilometers wide and standing at 240 feet it is an impressive sight that for some lucky visitors can have an extra edge to it depending on your timing. On average every 5 years there will be a rupture where the water has become too intense for the ice to withstand the pressure and hense the rupturing which an event that words would not do justice to.