Chile Cinemas and Movies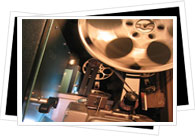 The thrills of the cinema just aren't complete without a bag of popcorn to throw in the air during those tense moments and if thats your idea of a great night then we have compiled a list of great cinemas for you to check out all the latest releases so book early to avoid disappointment and enjoy!
Cine Hoyts La Reina, Ossa 655 Av The Queen.
Cine Hoyts Parque Arauco, Av Kennedy 5413 L.250.
Cine hoyts san agustín, Currency 835 Santiago Centro.
Cine hoyts estación Central, Exhibit 155 Mall Paseo Estación central.
Cine hoyts arauco Maipú, Av.Américo Vespucio 399 L-145 Arauco Maipú
Iquique, Chile Cinemark Theatres Cinemark 6 IquiqueAvda Héroes de la Concepcion 2555 (57) 432-500.
La Serena, Chile Cinemark Theatres Cinemark 6 La Serena Avda Alberto Solari 1400 (51) 212-144.
Rancagua, Chile Cinemark Theatres Cinemark 6 Rancagua Miguel Ramírez 1420 (72) 211-799.