National Parks in Chile, continued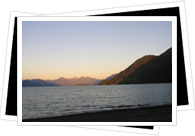 Vicente Perez Rosales National Park
Last on the list is the Vicente Perez Rosales national park, its main attraction comes in the form of the magnificent Todos los Santos lake known to some as the Emerald lake. You are able to go on a relaxing boat ride which you can then extend by travelling through into Argentina whilst getting to see the lake todos los santos.
Cerro San Cristóbal
This is the place to go if you're looking for a picture perfect moment of the city of Santiago and on top of that you have some exciting activities such as a zoo and a botanical garden, if that didnt catch your attention then you will be drawn in by Tupahue and Antilén the two swimming pools that are located nearby. You can get to the top of this hill by cable car so if you're not feeling in the hiking mood they have you covered.
Parque Forestal
Designed by Jorge Dubois in 1901 this park is a spectical for the eyes especially during the autumn seasons with the palette of colours from fallen leaves creates captivating scenery.. the park draws in several demographics and you're likely to see performers frequently passing through displaying their talents.