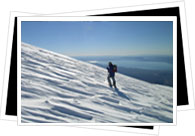 Chile Skiing & Snowboarding
For those into their winter sports you will be pleased to know that you can get yourself involved with snowboarding and skiing located near Santiago, the areas you can check out are
Valle Nevado
La Parva
El Colorado
Portillo
If you feel winter sports might be a tad extreme for you then don't worry as the next option might be for you, fishing is still quite a popular sport over in Tierre del Fuego.
There will be several tours that will be happy to take you around to the hot spots but if you fancy going solo then be sure to check out Rio Grande and Lago Blanco but it gets popular so don't expect to be the only person there.
Some of the other sports you should be able to find include:
There will be many companies willing to take you around biking but be warned they aren't the casual ride instead throws you in the deep end of some serious cardio! You generally get most of the tours going on around the hills in the area and a reptuable company will provide all of the kit needed so it might be worth scouting out whats around!