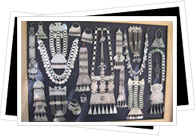 Shopping at Los Dominicos in Santiago
If you're looking for shopping in Chile then the best starting place will be in Santiago, and then from there you want to start heading over towards 'Los Dominicos' and the Bio Bio markets as both have an abundance of stalls that will be sure to captivate your attention.
Ok here is the run down of the places that should be on your "to do list"
Los Dominicos
Whether you're shopping for a specific need or you just fancy having a browse what can be guaranteed here is a lively atmosphere so even if you leave physically empty handed you will feel as though you got a whole lot of experience.
This is certainly a good place to pick up some unique pieces as there is a lot of crafts so expect to see a fair bit of wood work and similar trades, you will likely come across stalls where there isn't a bargain staring at you but that's the fun part of searching around for that buried treasure. There is always that sense of achievement after picking up a nice little bargain.
Whilst looking around you will probably notice the attention to detail displayed on the pieces of silver jewellery as the roots of the Chileans trace back to the Mapuches who excelled in creating silver jewellery.
The market also has diversity working in its favour because a long day bargain hunting would build an appetite for the majority and you won't have any problems picking up some delicious organic food in a variety of fashions with the stalls scattered around.