The Learning Experience: What School?
Spanish Schools in Latinamerica
Evidently, there are several alternatives if you want to study Spanish abroad. One of the most popular choices among foreign students is to travel to Argentina Spanish schools and spend a season in the emblematic southern country, home to tango and Diego Armando Maradona.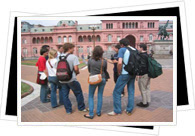 Among the great advantages of studying English in Argentina stand out, especially for European students, the vast cultural common ground they will find with the country's tradition. A nation built in large part with the contribution of wave after wave of foreign people, in Argentina strong links can be traced to English and Welsh origins, as well as Italian, Spanish and German traditions that have taken root in this utterly mixed society.
From the widespread practise of polo and rugby, to collective enterprises such as the vintage, Argentinean society is likely to strike a usual chord and perhaps, even, to make you trace back the source of many of these activities to your own country. And because not all can be serious issues of tradition and identity, if you happen to end up in Buenos Aires, the bustling environment of one of the most exciting places in the southern hemisphere is likely to leave you gasping for air.
Right on the other end of the geographic spectrum, an evident alternative in terms of where to learn Spanish in Latinamerica is to head towards the northern edge of the continent and to have a taste of chicano culture. As one of the most potent Latin American countries, Mexico offers an evident choice for students in search of a full-bodied experience.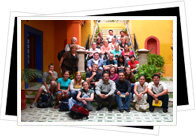 If you are thinking of going to learn Spanish in Mexico you should seriously consider which city you would like to visit. From the coastal beauties along the Pacific side of the country, to the Mayan cities in the south, the colonial settlements with their superb sample of the architecture of the XVI and XVII century or the tourist resorts of the Caribbean side, Mexico is as diverse as it is large.
So bear in mind when making your choice that when you go to a different country to learn the language you will pick up many more things than just the accent. The food, the music, the literature, the history and the tradition of a place are pervasive tendencies that will shape your stay in far more engaging ways than you might even think possible.